CLIENT: ALL9S
All9s was a SaaS solution designed as a turn-key remote backup and replication solution for mission-critical data hosted in the cloud.
PROCESS

Working with the CEO/founder (with whom I had previously worked at VMware), we used agile development methods to define use cases and requirements that enabled the delivery of a UX design specification for MVP software development.
All9s' solution seamlessly integrated into cloud environments, allowing control over data and freedom to move data between cloud providers at the click of a button. Unlike cloud providers like AWS and Rackspace – who supply infrastructure to host data – All9s unique technology solution delivered automated solutions to securely replicate, migrate and recover data across all cloud providers at a fraction of the cost of manual or IT-consultant solutions.
Deliverables for this project included the UX design for an Admin experience enabling a user to manage data recovery processes, including flows for important uses cases such as notification of an outage originating from a mobile device.
REQUIREMENTS AND PERSONAS
My design process begins by understanding the business problem to be solved. From there I work to understand the business context and the needs of the user population, and the use cases. For All9s, I worked with the CEO/founder to understand the business requirements, validating them in cases that have impact on the user experience. Then I worked to understand the user models, in All9s case, administrators of mid-sized enterprises. In some cases I conduct user interviews or surveys to validate assumptions.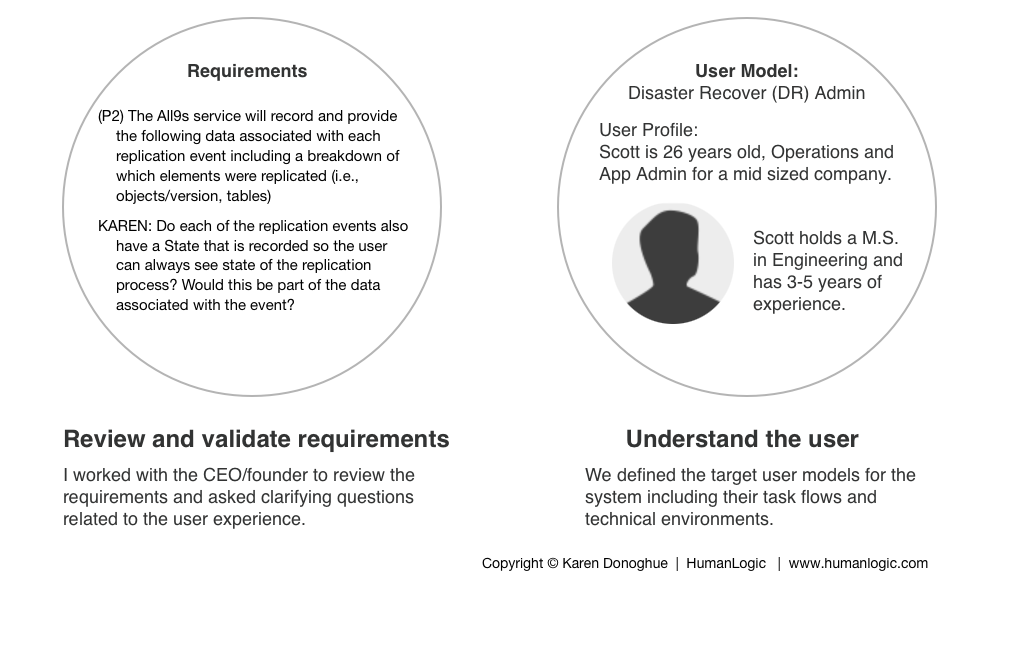 CONCEPTS AND FLOWS
After validating requirements and understanding the user models, I work through the prioritized flows – for All9s the team worked towards a MVP (minimum viable product) design. The flow designs for All9s allowed us to define a state model for the platform, some of which would impact the user experience and be exposed to the user.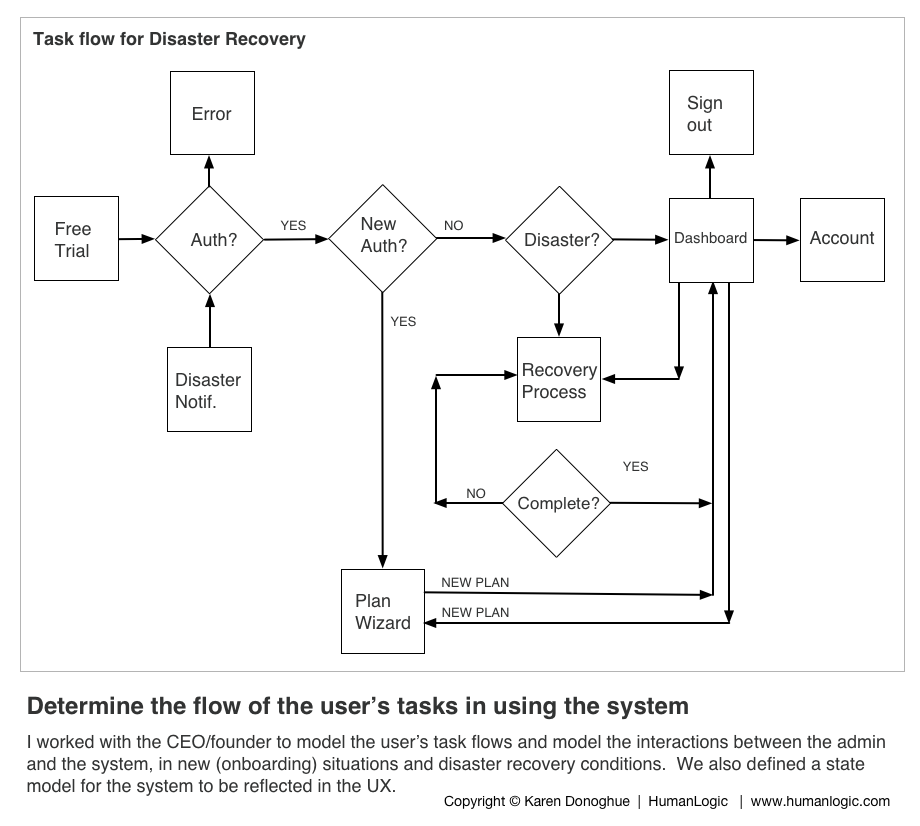 WIREFRAMES
After the flows were well understood I began work on the wireframes. Wireframing helps define the overall system layout and the interactions between screens, as well as the components to enable the interaction model. In the case of All9s, we assumed a modern web application UI framework (Bootstrap) and standard UI components. For each of the flows, I designed wireframes and the admin's interactions to initiate and complete tasks.

BUSINESS RESULTS
All9s was an early stage venture moving very rapidly to build their first product, and defining the MVP features and architectural attributes of the platform were the primary focus. Visual design considerations and branding were not defined at that time and as such we left the visual design very simple, using the default theming construct of the UI framework. Using the design artifacts, flows and wireframes that I delivered, engineering produced a completed implementation of the V1 of the All9s product.
FOR MORE INFORMATION
For more information on how HumanLogic can help with planning, designing and improving your digital products please contact us.