PRESENTATION TITLE
UX and PM Career Paths by Karen Donoghue, HumanLogic and Laura Holly, Olympus
HOST
Women in Tech 2021 @ Tufts Conference, Tufts University, Boston, MA USA
DATE, LOCATION & FORMAT
September 18, 2021, at 11:00 am EST. 45 minutes including post-presentation Q&A. Remote presentation.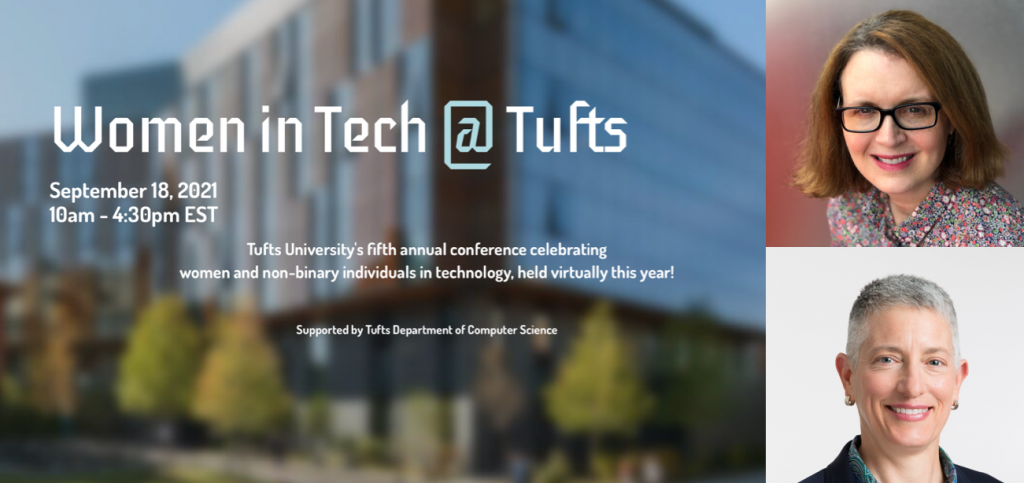 ABSTRACT
HumanLogic Principal Karen Donoghue and Olympus Business Unit leader Laura Holly delivered a presentation on User Experience and Product Management Career Paths at the fifth annual Women in Tech 2020 Conference at Tufts University. The presentation was introduced and moderated by Tufts University student by Aslı Koçak, and included a Q&A session at the conclusion of the talk.

WIT 2021 was Tufts' fifth annual conference celebrating ​women and non-binary individuals in technology and the audience was comprised of undergraduate and graduate students in Computer Science and Engineering and other professionals interested in careers in product development. The online conference attracted 550 attendees, with 50 attendees in the audience for Karen and Laura's presentation.
PRESENTATION CONTENT
Karen and Laura's presentation covered practices and career paths in product development including user experience design and product management. Karen spoke about combining a product design career with entrepreneurship, covering some of the connected device products that she has designed such as cell phones, robots and wireless photo frames as well as the launch of Local Haze, a global air quality monitoring application she has released for the iPhone. Laura discussed her career in product management and the types of skills and background needed to pursue a career as a PM.
The talk also covered the current practices of UX and PM in a variety of professional settings including:
How product development encompasses UX Design, Product Management and Engineering
UX practices in the real world
The role of Product Management in product realization
What Product Managers do in their day-to-day work
How to understand the needs of users of a product or service
How interaction design and visual design impact the delivery of new products
Roles in UX Design and Product Management, and the expectations for important skills, experience and education
Ways to transition into UX and PM roles
Breadth of experience as an asset in a Product Management career
The overlap between PM, UX Design and Engineering
After completing their presentation, Karen and Laura answered questions from the audience about preparing for careers in UX design and product management.
PRESENTATION VIDEO
PRESENTATION SLIDES
FOR MORE INFORMATION
If you require an expert source, case study, or speaker for your next event or meeting visit our Speaking Engagements page or please email info [at] humanlogic [dot] com.