HumanLogic Principals Karen Donoghue and Craig Newell have solved many real-world user-centric design and technical architecture challenges in industry. We are available to share our professional expertise and industry experience via short talks, interactive presentations and workshops that can be delivered remotely or in-person. Our expertise is focused on cloud computing/networking, cybersecurity, and device management and we are experienced advisors to startups, entrepreneurs and product teams. If you require an expert source, case study, or speaker for your next event or meeting please contact us.
Sample UX/PM expertise topics
User-centric enterprise product design
User research for modern applications and platforms
User research in a CICD environment
Architecting and building mobile experiences
Careers in User Experience
Sample Software Architecture experience topics
Improving authentication user experience for web and email
Practical enterprise mobility
Building interactive IoT devices
Southern New Hampshire University Association of Computing Machinery (ACM) Student Chapter meeting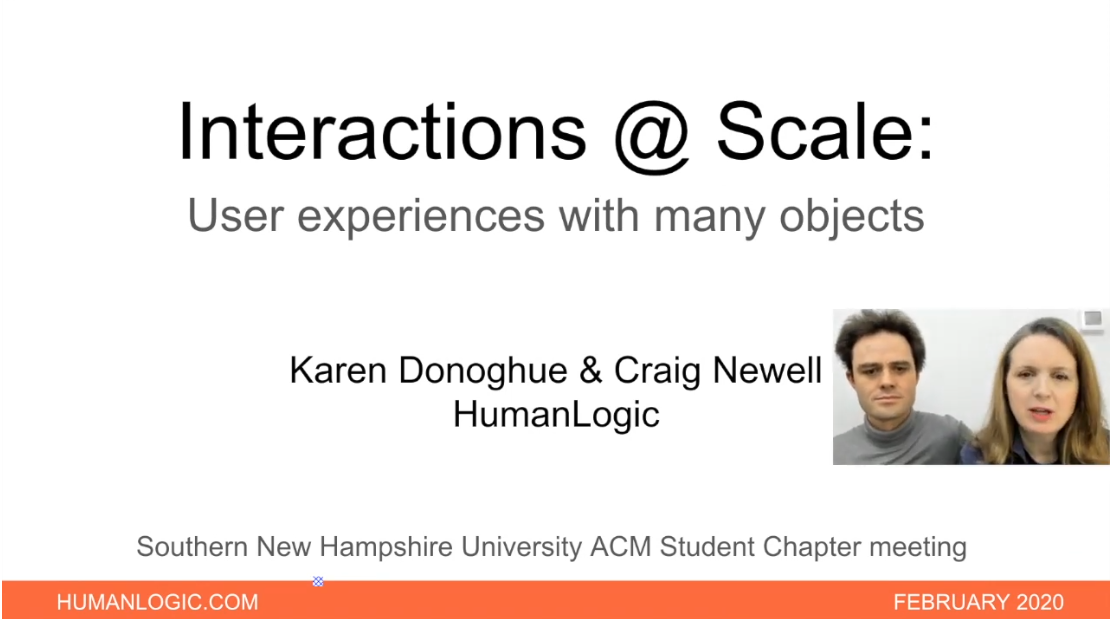 Topic: Interactions @ Scale:  User experiences with many objects
Date: February 20, 2020
Location: Remote interactive presentation at Southern New Hampshire University, NH, USA
HumanLogic Principals Karen Donoghue and Craig Newell delivered a presentation that proposed answers to the question "What user experiences work best for dealing with lots of things?" After a review of existing HCI techniques for dealing with interactions at a range of scales, Karen and Craig presented a case study of their recent work on building Local Haze, an app that crowdsources air quality sensor data at scale. The post-presentation Q&A included great questions from the attendees and students. More details on this presentation.
Additional presentations and workshops delivered by HumanLogic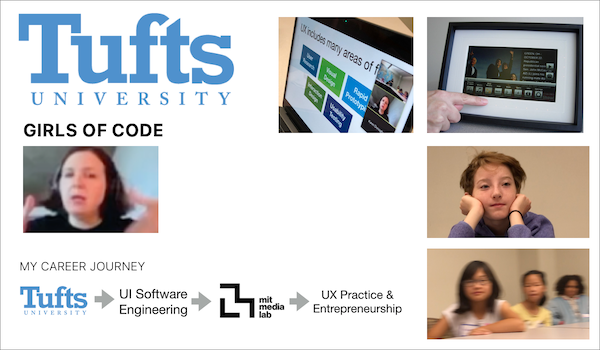 Tufts University Girls of Code
Topic: Careers in User Experience
Date: October 2018
Location: Remote interactive presentation at Tufts University Department of Computer Science, Medford, MA, USA
HumanLogic Principal Karen Donoghue delivered a 30-minute presentation with Q&A for girls ages 10-18 on careers in User Experience Design.
Karen's talk covered UX practice areas such as User Research and Interaction Design, personas, designing connected devices, mobile UX and robotics.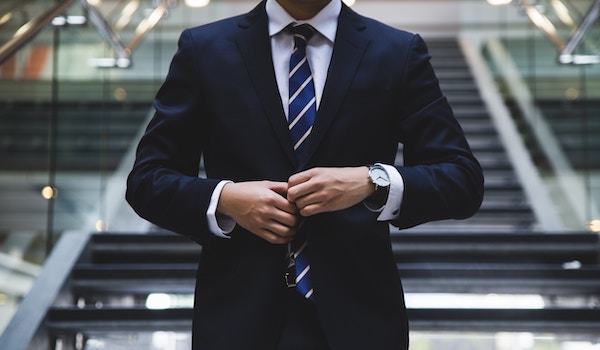 Custom presentation to investment advisory product team
Topic: Understanding the User Journey
Date: April 25, 2018
Location: Remote interactive presentation to CFRA Research offices, New York, NY, USA
HumanLogic Principal Karen Donoghue delivered a custom 60-minute interactive presentation to CFRA Research's Product Management and Engineering teams to inform software platform planning. Karen's presentation covered user experience strategy for designing for wealth management professional end-users, online customer touchpoints, personas, user journey maps, and an interactive Agile design exercise to inform and guide product roadmap planning.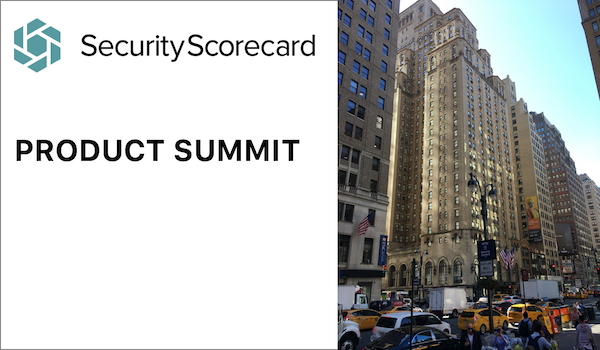 Enterprise Product Summit Panel
Panel: Addressing challenges of enterprise cybersecurity product development
Date: September 28, 2017
Location: SecurityScorecard corporate offices, New York, NY, USA
HumanLogic Principal Karen Donoghue was invited to participate in an expert panel discussion on the challenges of enterprise cybersecurity product development.
Other panelists included senior team members from SecurityScorecard's Engineering Management, Google Ventures, and MIT Sloan.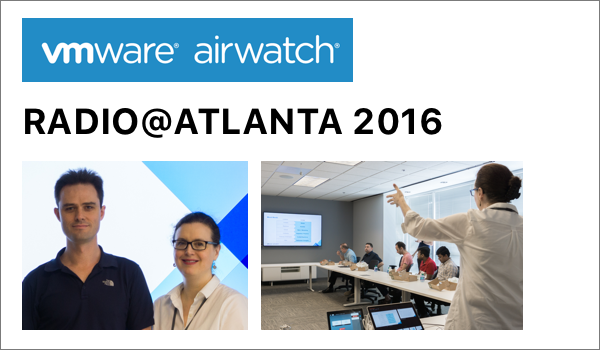 Topic: Enterprise Console Rearchitecture
Date: September 14, 2016
Location: In-person presentation at VMWare AirWatch corporate offices, Atlanta, Georgia, USA
HumanLogic Principals Craig Newell and Karen Donoghue delivered a 60-minute internal corporate presentation to VMWare Executives and Product Managers on MDM console rearchitecture.

The presentation was voted "Best Presentation" by conference attendees.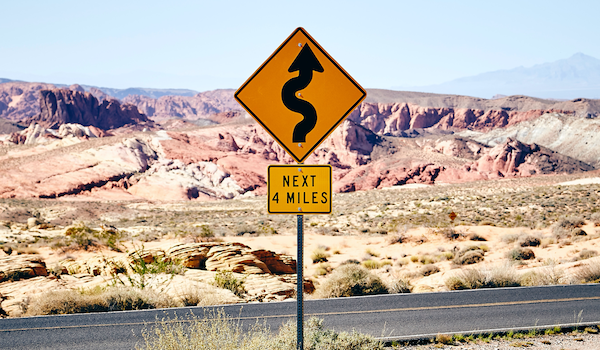 Product Pivot workshop
Topic: Executive Workshop leading the facilitation of a Product Pivot
Date: July 2015
Location: In-person workshop at client's corporate offices, East Coast, USA
HumanLogic Principal Karen Donoghue provided facilitation of a two day SaaS product pivot and strategy session for a startup client with participation by CEO, VP Product and Engineering.
The workshop was delivered on-site at the request of the VP of Product and included two days of facilitated workshops to guide roadmap planning for the new product.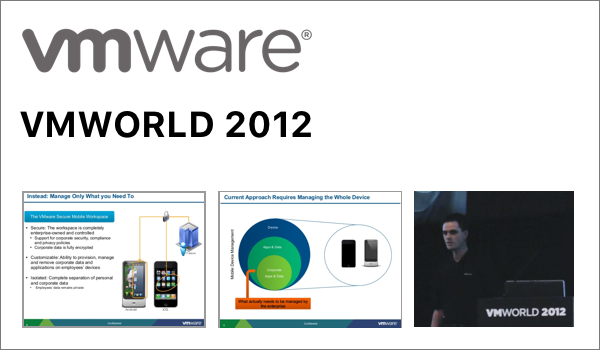 VMworld 2012 Technical Sessions
Topic: What Makes a Mobile Workspace Better? (Video, 55 min and slide deck)
Dates: August and September 2012
Locations: In-person presentations in San Francisco, CA (USA) and Barcelona, Spain
HumanLogic Principal Craig Newell delivered two 60-minute presentations at VMWorld 2012 with focus on VMware Horizon Mobile™, a platform that enables enterprises to securely customize and manage an employee's corporate workspace in isolation from the employee's personal environment on Android smartphones.
Mr. Newell presented technical details on device security, workspace management and certificate administration in addition to information on enterprise mobile deployments at scale.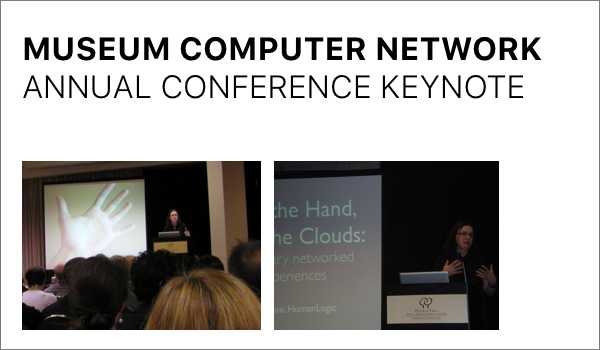 Keynote for Museum Technology conference
Keynote: Eye on the Hand, Mind in the Clouds
Date: November 12, 2009
Location: In-person keynote presentation at Museum Computer Network 37th Annual Conference, Doubletree Portland Hotel PNW Ballroom, Portland, Oregon, USA
HumanLogic Principal Karen Donoghue delivered a 90-minute keynote with Q&A for attendees of Museum Computer Network's 37th Annual Conference "Museum Information, Museum Efficiency: Doing More with Less!"
During her keynote, Karen shared her expertise on "location-aware" devices, networks and cloud storage aligned to opportunities to deliver innovative user experiences in cultural and educational settings. She presented new concept designs for museum environments, demonstrating the impact of how "adaptive connectedness" offers opportunities for unique museum experiences. The concepts Karen showed included visitor experiences capable of adapting based on factors such as location, time, and social connections.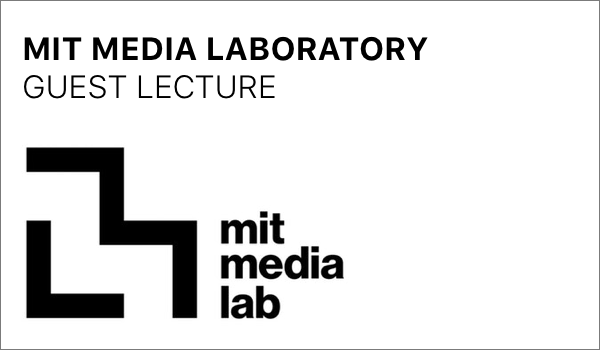 MIT Media Laboratory Guest Lecture
Topic: Design @MediaLab: The Vision and Legacy of Muriel Cooper
Date: October 19, 2011
Location: MIT Media Laboratory, Cambridge, MA USA
In the fall of 2011, MIT Media Lab Professors Tod Machover and Neri Oxman, PhD taught a course titled Musical Aesthetics and Media Technology. The course focused on accomplishments of the MIT Media Lab community in areas that included music, art and design.

As an invited guest lecturer for the course, MIT Media Lab alum Karen Donoghue delivered a 60-minute guest lecture with Q&A to MIT graduate students, researchers and faculty. Karen's talk covered the influential design work of Professor Cooper, Karen's advisor during her graduate studies at the lab. Karen's talk also covered her work on global product experience design for connected devices.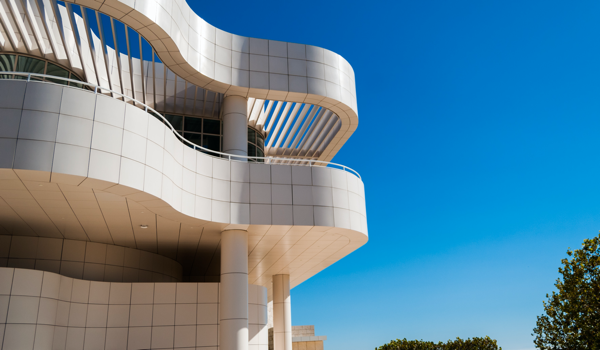 Custom workshop for The J. Paul Getty Trust
Topic: Lecture and Interactive Workshop
Date: October 21, 2010
Location: In-person workshop delivered at the Getty Center, Los Angeles, CA, USA
For the J Paul Getty Trust, HumanLogic Principal Karen Donoghue prepared and delivered a day-long interactive workshop on "Best Practices for Delivering Great User Experiences in Cultural Settings".

The workshop attendees included museum and cultural institution professionals. Karen's workshop covered user-centered design best practices including: Requirements gathering; agile development process; user segmentation models and scenarios; ethnographic research; feature prioritization; technologies and platforms (e.g. web, devices, etc); data sources; rapid prototyping; usability testing and preparing presentation materials for sharing designs.