PRESENTATION TITLE
Adventures in Design by Karen Donoghue, Principal Interaction Architect, HumanLogic
HOST
Professor April Greiman, University of Southern California, Los Angeles, CA USA
DATE, LOCATION & FORMAT
Two lectures: August 26, 2021 and August 31, 2021 at 6:30 pm PST. 45 minutes including Q&A. Remote presentation via Zoom.
PRESENTATION
In August 2021, HumanLogic Principal Karen Donoghue delivered two guest lectures at USC for Professor April Greiman's Visiting Designer and Scholar Seminar Series at the Roski School of Art and Design at USC, the oldest art school in Southern California. For an audience of MFA students, Karen presented her work on the design of many connected devices products as well as her own air quality monitoring product Local Haze.
Karen's presentation covered practices and career paths in product development including user experience design and product management. Karen spoke about combining a product design career with entrepreneurship, covering some of the connected device products that she has designed such as cell phones, robots and wireless photo frames as well as the launch of Local Haze, a global air quality monitoring application she has released for the iPhone.
DESIGN CHALLENGE
After a Q&A session at the conclusion of her talk, Karen presented a design challenge for students. Students had two days to execute designs based on several form factors (phone and watch) and including a label, a numerical value, color and sample data. During the second guest lecture later in the week, the students prepared and delivered presentations for critique by Karen and Professor Greiman.
MFA student Millie (Mingming) Liu (class of 2022) designed a concept for air quality monitoring as part of the design challenge given by Karen during the lecture series. Her excellent design concept included the presentation of air quality data for different geographical locations for users on a smartphone and a watch.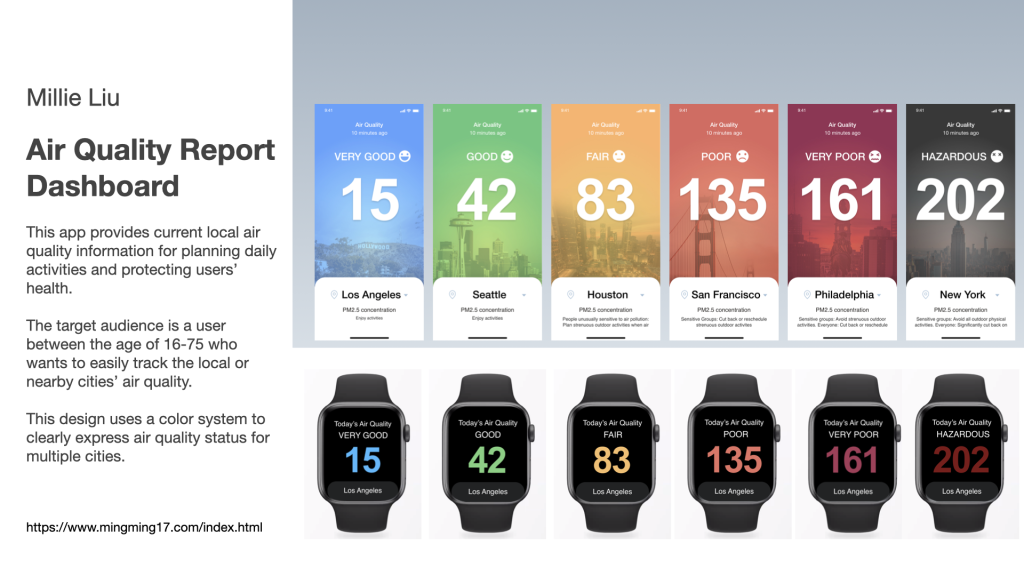 HOST REFERENCE
"In the fall of 2021 for a Visiting Designer Forum Seminar that I teach at USC, Karen Donoghue delivered a remote guest lecture to my graduate students in design.
Over the course of an hour, Karen gave a lecture about her design career and her experience as an independent product designer for products released worldwide. She answered students' questions about her work and career and encouraged them to think about their careers as designers.
At my request, Karen prepared and delivered a Design Challenge for the students. This short assignment was to be presented on a smartphone or smartwatch form factor. Over the course of two lectures, Karen and I critiqued the students' work and delivered constructive feedback.
I would highly recommend Karen as an excellent and enthusiastic guest lecturer in design at the graduate level."
Professor April Greiman
Faculty/MFA Design
USC Roski School of Art and Design
Los Angeles, CA, USA
FOR MORE INFORMATION
If you require an expert source, case study, or speaker for your next event or meeting visit our Speaking Engagements page or please email info [at] humanlogic [dot] com.