HUMANLOGIC CLIENT: ANNUM HEALTH
Design of a new remote behavioral health platform working with a venture-backed founding team
PRACTICE AREAS
Product Planning, Requirements validation, Persona design, Journey maps, UX flows and interaction design
SUMMARY
Led highly collaborative approach with founding team to validate requirements and design MVP release
Worked remotely from Cambridge MA and on-site in San Francisco Bay Area, USA
BACKGROUND
The second telemental health platform I helped design was Annum Health, founded in New York City in 2016 as an alternative to rehab for heavy drinking. (I have also designed MVP UX for Empower Interactive, a CBT platform, and Equip Health, a platform for treating eating disorders).
Annum Health was a digital health startup aiming to transform the treatment experience while eliminating barriers to care, such as high cost, personal and professional disruption, and stigma. Annum Health's business model involved partnering with employers and health plans with the goal of improving workforce health. The employer would pay the cost of the individual's treatment, but Annum safeguarded each person's privacy so coworkers would not know an employee's participation in the program.
Through the Annum Health platform, users had access to a personal support team comprised of health coaches, physicians and licensed therapists to help them meet their goals. Users could complete daily check-ins and activities to reach their goals and change their relationship to alcohol and participate in community groups.
DESIGN PROCESS
With an aggressive timeline for this engagement, I worked with Annum Health's Co-Founder/Chief Clinical Officer and the Head of Product to define requirements for the MVP release.
My initial deliverables started with the design of personas for the platform, including the program participant and a personal support team consisting of a licensed therapist, a coach and a physician. I defined journey maps to reflect the Annum Health treatment plan and to support the platform requirements for enabling treatment from the initial discovery phase through treatment completion for all personas.
I designed a native mobile app for individual participants to use for rehab treatment, including end-user flows to enable easy onboarding and activities to facilitate and manage rehab treatment.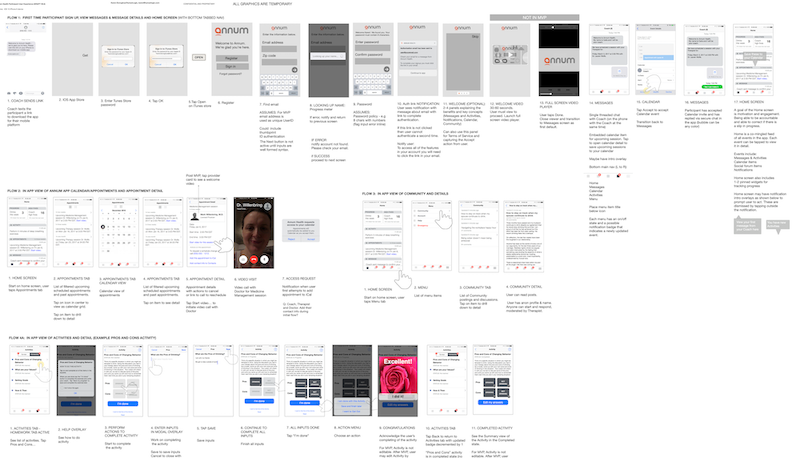 From a large inventory of flows (a subset of which are shown above), we prioritized the MVP release's critical flows to focus on onboarding and treatment flows (below).

Through the mobile app, participants could view their treatment progress in calendar views, receive customized notifications to report drinking behaviors and attend video calls with support team members (below).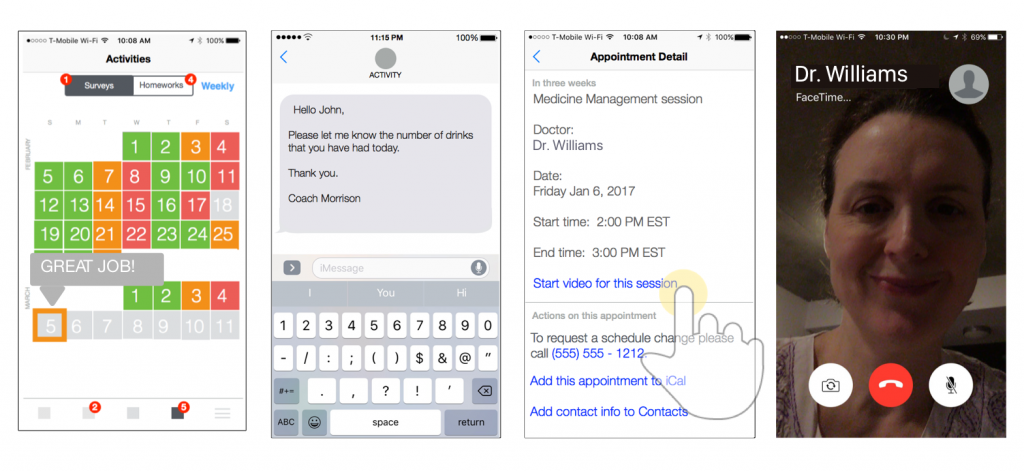 In addition to end-user flows for participants, I also designed user flows for personal support team members consisting of therapists and administrators to manage patients' treatment. All care team personas were motivated to provide excellent care for program participants, and platform requirements emphasized ease of use for all team members' interactions.
During a subsequent engagement in 2017, I helped Annum Health's co-founder and chief clinical officer build the internal UX team by writing the job description for the first full-time UX hire and working with recruiters to interview candidates. This effort helped the Annum Health executive team hire their first UX team member.
RESULTS
In November 2019, Annum Health announced a partnership with Cigna, the first health service company to pilot Annum's program with employer clients. In total, Annum Health raised $6.4 million (according to Crunchbase), and investors included .406 Ventures, Canaan Partners and AXA Venture Partners.
Although Annum Health shut down in January 2019, the work has made an influential and important contribution to the growing dialogue among employers and health plans seeking better ways to help employees address serious drinking issues, especially in remote use cases.
TESTIMONIAL
Annum Health's CEO had this to say about my contributions:
FOR MORE INFORMATION
For more information on how Karen Donoghue DBA HumanLogic can help with designing and improving your software product user experiences please visit www.humanlogic.com.