HUMANLOGIC CLIENT: BEYOND IDENTITY
A three-phase engagement for a pre-launch product consisting of an expert opinion product review, product usability measurement strategy creation, and agile scrum backlog creation.
PRACTICE AREAS
Product Planning, Requirements validation, Product Auditing, Continuous UX measurement, Agile software planning.
SUMMARY
HumanLogic was engaged at the pre-alpha stage of the Beyond Identity authentication and identity product.
HumanLogic principals performed a rapid expert opinion audit of the Proof of Concept product to identify as many major usability issues as possible before the first prospective customer trials.
The usability issues discovered during the audit were prioritized and expressed as complete agile user stories and delivered as JIRA issues, allowing them to be addressed promptly by engineering.
HumanLogic was then tasked with defining a strategy for quantitatively measuring the usability of the product user experience in a continuous deployment environment. When subsequently executed with prospective end-users in a small UX research study, the results aligned strongly with the expert opinion audit findings.
CLIENT PROFILE: BEYOND IDENTITY
Beyond Identity's mission is to enable Zero Trust through the elimination of passwords.
PRODUCT DESIGN PROCESS
During the very early stage of the company, we worked closely with Beyond Identity's CTO and Engineering team to participate in product planning, feature definition, and workflow design for the MVP release.
HumanLogic was tasked with improving usability to turn the team's Proof of Concept into a first MVP release of the product. The goals for the engagement included the successful design of a highly usable "self-service" user experience that would not require specialized training or a lengthy onboarding process.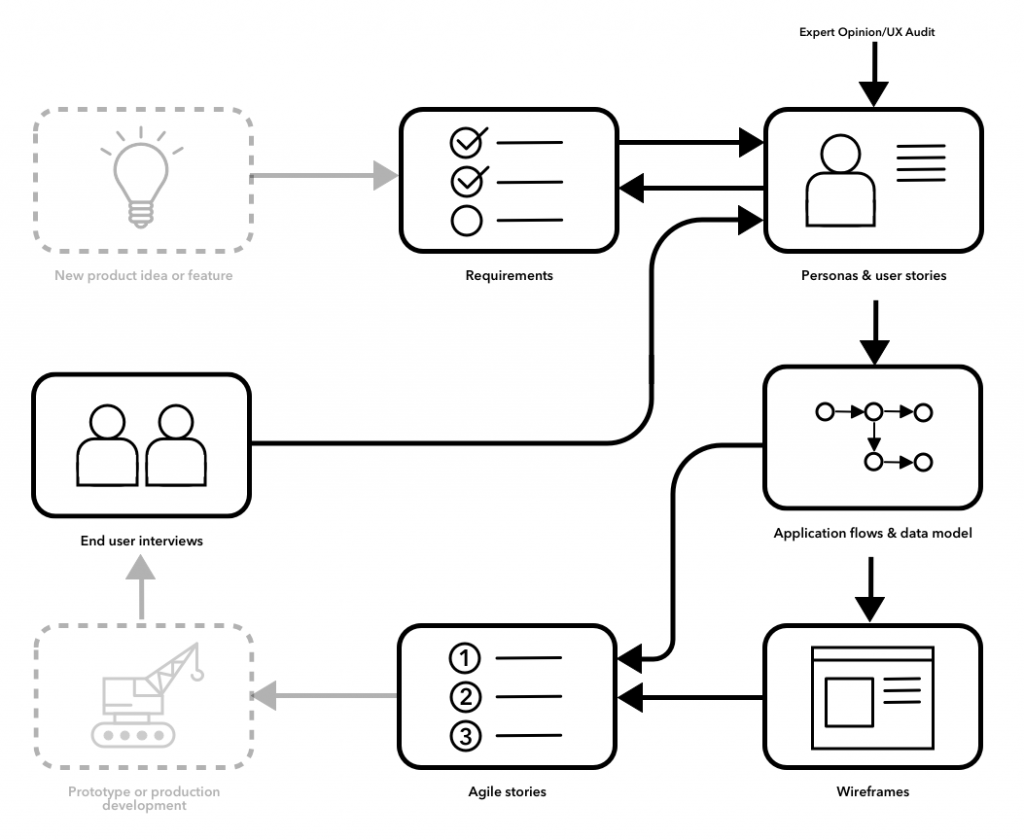 To start the engagement, we gathered the product vision through interviews with the CTO and the head of Engineering. After this, we analyzed the POC using personas from the interviews and created end-user journey maps and detailed application flows. From these artifacts, it was evident to us as Interaction Architects that there were issues to be addressed. We documented these issues and presented them to the team with our prioritized recommendations.
Next, the HumanLogic team was tasked with delivering a user research strategy to continuously evaluate the usability of the product going forward using quantitative metrics. We delivered a template script, a scoring methodology, and a video of a sample test session to serve as a guiding framework for continuous usability evaluation later on.
Finally, the HumanLogic team was tasked with taking the UX audit findings and expressing the recommendations as a set of prioritized agile user stories. These user stories included complete, well-articulated requirements (user story, acceptance criteria, wireframes, and technical design as was appropriate). These requirements artifacts were delivered directly into the engineering team's JIRA instance to take the release from PoC to a "releasable" MVP.
RESULTS
Beyond Identity announced its implementation of the product in April of 2020. The results of this engagement delivered an improved user experience for the released product, including a streamlined workflow for enterprise end-user self-provisioning and onboarding new users.

To see the released user experience for the Beyond Identity platform in action, please view this video:
CLIENT REFERENCES
Jason Cassey, PhD, CTO, Beyond Identity
"Usability is often an afterthought in most security products. At Beyond Identity we are focused on improving security while improving the end customer user experience. In order to do this we engaged with HumanLogic early in our development process to ensure a highly usable, coherent user experience. The HumanLogic team are domain experts, responsive and fun to work with. I would highly recommend HumanLogic for any early-stage venture that truly cares about user experience."
Nick Matviko, Director of Engineering, Beyond Identity
"Karen Donoghue and Craig Newell really helped us get a jumpstart before deploying to our first customer, as they found areas to improve the user experience that we did not even think about. Creating very detailed and thorough tickets, it allowed us to move fast and provide quicker value-add to the customer."
FOR MORE INFORMATION
For more information on how HumanLogic can help with designing and enhancing your product user experiences please visit www.humanlogic.com.